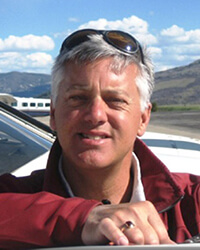 Joe Birkinbine – Steamboat Springs, CO
ATP and Master Flight Instructor for:
– Single & Multi-Engine Land
– Instrument Airplane
– Turboprop and Piston Instructor


Instructor for:
Beechcraft Bonanza 35 / 36
Beechcraft KingAir  90 / 100 / 200 / 250 / 260 / 300 / 350 / 360
Cessna 340-340A / 414-414A / 421 A-B-C
Daher TBM 700A,B,C2 / 850 Legacy & G1000 / 900 / 910 / 930
Piper P46T Meridian / M600 / M500 / JetProp
Piper PA46 Malibu/Mirage/Matrix
Pilatus PC12 -45 & -47 Legacy
Total Flight Experience:
11,000+ hours
5,000+ hours Turboprop
7,000+ hours Mountain Flying
6,000+ hours Dual Given
Master Flight Instructor (2011, 2013, 2015),
FAA Gold Seal CFI/II/MEI.
Former FAA Designated Pilot Examiner (DPE)
Bio:
Joe is one of our highly-experienced professional pilot instructors.  In his full-time work, he flies a King Air 350 all over North America for Wheels Up.  In his spare time, Joe conducts flight training in a variety of high performance single and twin engine aircraft as one of our two Colorado-based team members.  Joe brings in extensive instructional knowledge and flight experience with the King Air, Piper Meridian, and TBM aircraft groups and offers training in almost every model offered.
Business Experience:
Owner/Flight Instructor – Steamboat Flight Academy (1988-Present)
American Portfolios – Financial Advisor (1995-Present).
Additional Aircraft Flown:
Cessna: 172 Skyhawk/182 Skylane (Conventional/G1000), LC41/LC42 Columbia/Corvalis 350/400 (Conventional/Avidyne/G1000)
Cessna:100 & 200 series
Cirrus: SR20 & SR22 (Turbo & Normal)
Avionics Experience:
Garmin GTN650/750, GNS430/530, G500/600, G1000/950, G3000
Primus Apex
Avidyne Entegra
Aspen EDF1000Pro
Collins Proline 21 & Fusion
Honeywell/Bendix-King conventional panels
Client Testimonial-1
Client Testimonial-2