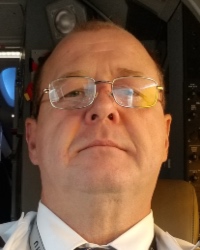 Dean Lefebvre – Iron Mountain, MI
ATP and Senior Flight Instructor for:
-Single & Multi-Engine Land
-Instrument Airplane
-Turbojet, Turboprop, and Piston Instructor
Initial and Recurrent Instructor for:
Piper PA46 Malibu / Mirage / Matrix
Piper PA31 Navajo / Chieftain
Cessna 340 / 441 Conquest II
Pilot Credentials and Flight Experience:
ATP AMEL, COM ASEL, CFI
20,000+ hours total flight time
Director of Operations – P135 company in Michigan
P-135 Check Airman – Cessna 441
Type Ratings: Airbus A320, Boeing B737, Embraer EMB-120 Brasilia, Beechcraft 1900
Bio:
My name is Dean Lefebvre. I am a Chicago O'hare based Captain for United Airlines, flying the Boeing 737. As a Captain I am responsible for the safe and efficient operation of the airline's aircraft. An equally important task as a Captain is tutoring and mentoring the airline's First Officers.
I grew up in Iron Mountain, Michigan and graduated from Iron Mountain Senior High School in 1986.  I then joined the Army and served as a Helicopter Crew Chief on the UH-1H "Huey" until 1989. While serving in the Army, I took advantage of the overseas campus for Embry-Riddle Aeronautical University to start my college education and transferred to the Daytona Beach campus to complete my Bachelors of Aeronautical Science degree in 1992.
My aviation career started out as a flight instructor at Peninsula Aviation in Escanaba, Michigan. While flight instructing, I had the opportunity to fly the Piper Navajo and Piper Seneca.  In the spring of 1994 I was hired as a first officer at Great Lakes Airlines, flying the Beech BE-1900. I eventually upgraded to Captain and then onto the Embraer EMB-120.
I was hired by United Airlines in 1998 and started out as a Flight Engineer on the Boeing 727 eventually flying the Airbus A320 and Boeing B737. I upgraded to Captain on the Boeing 737 in the fall of 2016.
During the slow down years due to Covid, I started to help out our local FBO in Iron Mountain; Kubick Aviation. I am currently the Director of Operations/Chief Pilot at Kubick. I also serve as an instructor and Check Pilot on the Cessna Conquest, C-441 and the Cessna C-340. One of the most exciting tasks that I perform at Kubick is being a test pilot for the new installations of avionics. The new Garmin line of auto pilots and GPS's areamazing.
I own and enjoy flying my Piper Malibu PA-46-310P.  In 2022 I started with Wright Aviation as an instructor and evaluator. I enjoy the opportunity to promote safety within the industry.  Through my 33 years of experiences and over 22,000 hours of flight time, I have learned a great many things about the Aviation industry and what it takes to succeed in Aviation.