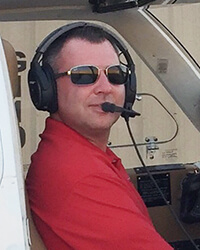 Brian Schultz – Lake Havasu, AZ
ATP and Gold Seal Flight Instructor
-Single/Multi-Engine Land
-Single/Multi- Engine Sea
-Instrument Airplane
-Turbojet, Turboprop, and Piston Instructor
Instructor for:
Piper PA46 Malibu Mirage, Meridian
Daher Socata TBM 700, 850
Twin Cessna 310, 340, 421
Beechcraft Baron 55, 58
Cessna Citation Mustang
Total Flight Experience:
5,000+ hours
Brian Schultz has been flying since 2000 and has been flight instructing since 2002. With over 2,000 hours of instruction given, Brian has the experience background to draw from. He has a strong passion for teaching and loves passing along his knowledge. Brian holds an Air Line Transport certificate in both airplane single engine and multi-engine land, type ratings in the CE-500, CE-525/CE525S, and LR Jet, Commercial single engine sea certificate, Gold Seal Certified Flight Instructor rating, Certified Instrument Instructor rating, Multi-Engine Instructor rating, and Advanced Ground Instructor rating.  Brian has flown corporate part 91 from a PA-32 to CE525 all over world, part 135 charter service in a CE-500 in North America and was an instructor at numerous flight schools including Flight Safety where he instructed on the LR-Jet.
Brian currently is teaching students from private pilot rating to a ATP type rating.  He is also involved with the local airport advisory board, a senior member for the 501 Squadron of Civil Air Patrol, the local airport AOPA ASN, a FAA FAAST Safety Team Representative and Beechcraft Pilot Proficiency Program Instructor.No matter what the aircraft or the mission, Brian's passion for aviation shines through. What separates Brian from most professional pilots/instructors is that he is small business owner himself. This gives Brian the unique understanding of the demands of a small business places on one's schedule but also the understanding of how aviation can help with those time constraints. As Brian often says, "You cannot buy time but owning an airplane is pretty close"!